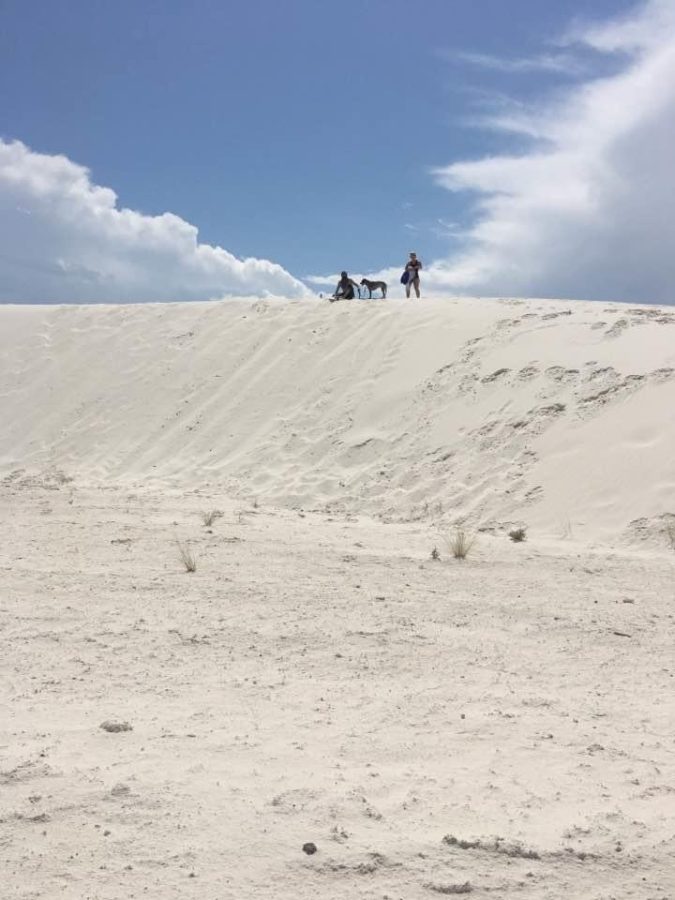 It is reasonable to believe that most people have a "Bucket List."     I have a (loose) Bucket List of places that I want to visit and things that I want to (attempt) do before I transition into the next life.  Who knows, maybe that life may be even far more adventurous than this one, but I figure while I am here I ought to give a few things a go.
As a closet fast car fanatic, anytime I see a movie that has a scene with White Sands in it, I just get giddy.  Do not know what it is or even why, but something about burnt rubber gripping white gritty granules in their threads just screams "I wanna go fast!" (Que your best young Ricky Bobby). 
When Mae planned a trip to White Sands a couple of years ago, I was stoked!  Now, the lessons learned here is that we might not want to repeat that experience in oh, I don't know, say July….yes, I lost weight that day, no the heat wasn't really worth it. 😊 But the day was worth the Bucket List checkmark that was auto- applied as part of the experience.  
White Sands is a national park located approximately 50 miles northeast of Las Cruces along US 70 in New Mexico.  Originally designated as a national monument in 1933 by President Herbert Hoover, the park's composition is mainly comprised of gypsum crystal; the largest dune field on Earth (must be true because I looked it up on Wiki).
I am not a cold natured person; I prefer the heat.  This explains my migration to the southwest in 1989.  Do not get me a wrong, I like the natural ebb and flow of the seasons and I embrace the winter months but what I like most about them in the southwest is that they are short.  So, the 100+ sweltering degrees of heat coming off the dunes in White Sands is just up my alley.
Mae and I arrived midday and waited our turn in line to get inside the park, rented our sand sleds and headed out for the adventure.  Climbing up a hill of sand is as advertised; a living hell of slow and thankless trekking, sinking, slipping and saying "yep, that's in my underwear" at least fifty times before you get to the top.
But it is all worth it!  Just like the cold weather downhill bullet sledding that most of us are accustomed, once you get your first (semi-friendly) shove over the edge, it's all systems go; spinning sand flying up into the crevices you didn't know you have, your hair, your mouth (phffsst…phfsstt…that's gritty…) while you laugh your ass off.  If you are one of the lucky few, you will get stuck halfway through your slide and get an extra workout as you try to regain momentum.  Bonus points if the assclowns around you are whizzing by without an offer to grab an ankle and drag your happy ass to the bottom as a hitchhiker.  Note to self; must move quickly before the sun heats up that disc under your bum.  Plastic burns can leave a welt.
Once unstuck, your journey reconvenes and you find yourself at your final destination only to get up, dust (what you can) off, grab your recycled disc and head up the dune hill once more while the dog makes the climb look effortless, giving you that "what the hell hooman?  Why take sooo long ol' gal?" stare…
I am grateful for a lot of things in my life and have had the opportunity to travel to many places, but this trip, this was special.  It allowed me to reconnect with one of my most favorite people on the planet.  She knew my heart so well that she independently created a plan, crafted an itinerary which was handed to me upon arrival earlier that week and said, "this, this is what we're doing."  When we were on the the return trip to the airport for my flight home,  I thanked her and asked how she knew I wanted to do that and what motivated her to make it happen.  Her reply still rings in my ears. "I pay attention to you because I love you and I do the things for you that I know that you will never do for yourself."  Now that my dear readers is both a parenting success and a story of love.  May you have them both (without the sand in your butt).