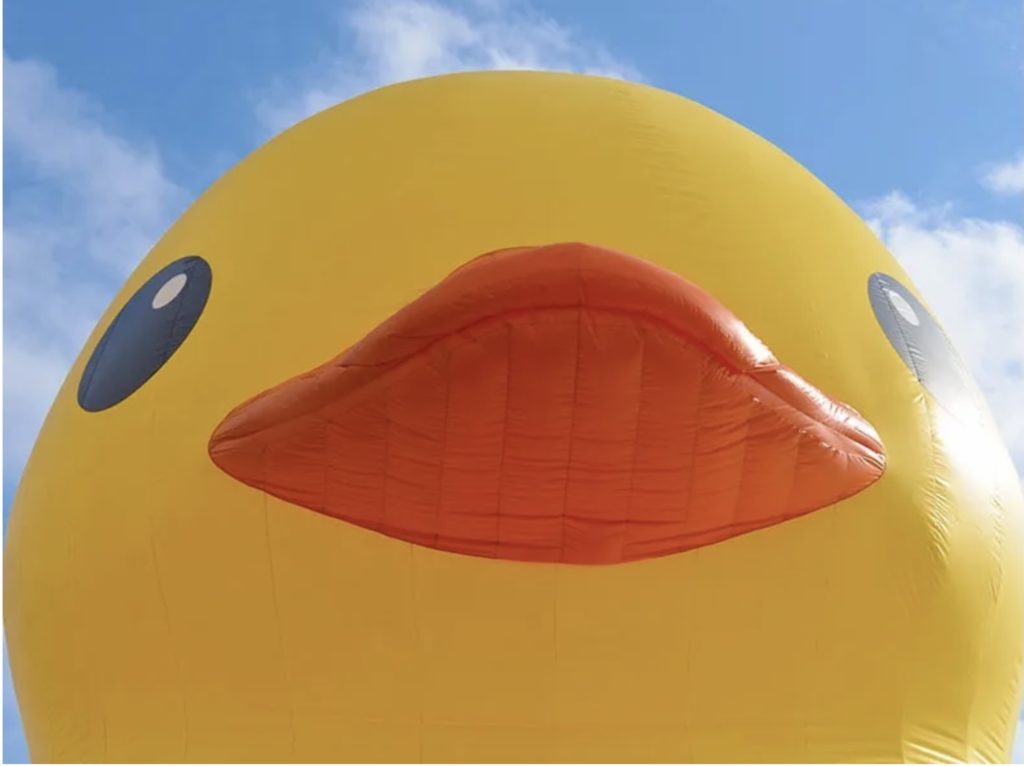 I looked forward to this event all year. Originally scheduled for the summer of 2021, The Kindness Duck Project finally landed in Fort Worth in October: a newly launched initiative aimed at bringing back kindness with the help of a six-story duck. Founded earlier this year (2021) by Executive Director Kyle Warren who has a long history in both corporate and charitable spaces, the Kindness Duck Project is designed to encourage and spread random acts of kindness. As CEO, Kyle is in charge of all things strategy, financial management, and of course he is the champion of kindness.
The event was held at Fort Worth's Trinity Park, just across the Phyllis J. Tilley Memorial Bridge. Food trucks, pet adoptions, freebies, as well as goods and products were available throughout the venue. It was a beautiful day, and turnout for the free event did not disappoint. Children of all ages arrived with excited anticipation and departed with smiling faces.
Mama Duck is as advertised: a big, yellow, water-loving fowl. She reminds us of our childhood and plants Sesame Street's™  Ernie's "Rubber Duckie" tune in our heads…for days! Truly she is taking us back to a kinder, gentler, politer time.
The Project's mission is based upon three key mission pillars:
Plant Kindness: perform as many random acts of kindness as possible throughout the community.
Grow Kindness: promote and uplift charitable organizations by giving them a larger platform (I LOVE THIS!).
Share Kindness: provide children of all ages the opportunity to give and receive kindness through events and curriculum.
Who can't get behind all of that? In addition to all of the mission-driven activities, the event provided a venue for local vendors, artists, and service providers to promote their creativity and connect with new customers. I took the liberty of meeting (and transacting) with several of the local (home-based) entrepreneurs who participated and represented kindness well. (More about them to come in future articles.)
Based in Fort Worth, Mama Duck will surely become a local celebrity and will have many recurring events in the coming years. I intend to put it on my calendar of annual must-go events.
But the best thing I took away from the Kindness Project event actually just happened today. While checking out my groceries at my local store, I noticed a lady feverishly scratching off one of several lottery scratch-off tickets that she had just purchased. I strolled over to the  machine and fed it my regular five-dollar sacrifice in hopes that the lottery gods would smile upon me. Three tickets for five bucks. Three chances to win. I walked over to the lady and gently tapped her elbow as I placed one of the tickets in front of her. I looked her in the eye and said, "I hope you win big." Her eyes lit up, and I could see the smile beneath her mask.
In truth, I got to be the big winner today. Randomly making someone else's day did good for my heart and my spirit. Kindness got a win as well: I intend to embrace the first pillar to the max — an ambassador and advocate of sorts. What do I get out of it? The joy of seeing others light up. Try it out. See what doing something good for others does for you. I hope you win big too.